About the BID
West Bromwich Town Business Improvement District covers over 500 businesses in West Bromwich Town. We have partners in Queens Square Shopping Centre, New Square Shopping Centre, Kings Square Shopping Centre and Astle Retail Park, Carters Green and High Street.
We undertake many projects within the town, these include: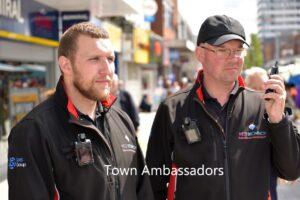 Our 2 Town Ambassadors patrol the BID area 6 days per week and are a main point of contact for information, help and assistance.  They work in partnership with Sandwell Council and West Bromwich Police/PCSO's to report any town centre issues including Anti-Social Behaviour.  Our Town Ambassadors have positive relationships with business owners and employees.2 Town Centre Ambassadors patrolling the BID area.
Please watch the video below to learn more about our Town Ambassadors.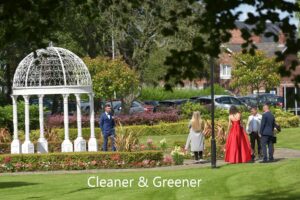 The BID wants to ensure that West Bromwich Town is tidier and greener and more attractive to those that visit the area whether it be for shopping or work.
We fund additional litter picks of the town 7 days a week, intense jet washing of the BID area on a bi-monthly basis and undertake chewing gum removal and graffiti removal.
The BID also provide hanging baskets throughout the town all through the year.
Please watch the video below to see how the BID strives to makes West Bromwich Town cleaner and greener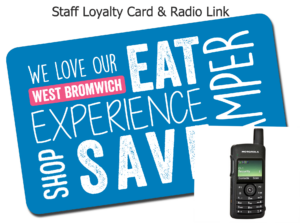 The Staff Loyalty Card is for staff who work within the BID area and offers various attractive offers from retailers within the BID area.  The BID also has a dedicated app where the offers can easily be accessed and cards applied for. The Staff Loyalty Card gives staff an incentive to spend their money within West Bromwich town and in turn increase footfall for the retailers on the card.
The Radio Link is managed by West Bromwich Town BID and is an effective communication tool within the town and is used by businesses, Police, and Sandwell Council.
Please watch the video below to see how the Staff Loyalty Card and Radio Link are beneficial to the town.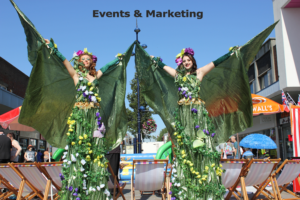 The BID run an events calendar throughout the year, which culminates in the Christmas Lights Switch on that brings 2000 people into the town. Over the last 5 years the BID has hosted 57 events.
The BID has a dedicated website page that is updated on a regular basis and also excellent social media platforms through Facebook, Instagram, Twitter and Linkedin.  Our social media platforms have over 3000 followers.
The BID also produces a quarterly newsletter that is distributed to all the businesses in the BID area and includes news and advertising.
Please watch the video below to learn more about the events and marketing that the BID undertakes.
West Bromwich Town BID are looking forward to continuing to provide these valuable projects plus many more over the next 5 years.