Job Vacancies within the BID Area
Select Lifestyles, High Street, West Bromwich (Old Court House) – Concierge/Security
Select Lifestyles provides support to adults with Learning Disabilities across the West Midlands. We are a rapidly expanding company employing over 400 staff and we now have a requirement for a Concierge/Security at our new head office in West Bromwich.
Reporting to our Health & Safety and Facilities Manager, you will be providing generalist high quality security services to the office building including managing a visitor logbook, patrols, car park management, internal and external guarding, monitoring CCTV system, opening and unlocking the building etc.
The candidate needs to be reliable with experience in a similar role along with a motivation to be able to lone work for a large part of the working day.
Key duties
Provide a welcoming and courteous meet and greet service, and professional but friendly environment.
Book in all staff, visitors and contractors ensuring vehicle information is captured.
Provide support during any major incidents or emergencies and taking suitable action should incidents arise.
Undertake regular ground patrols including monitoring the car park to ensure we are providing a safe environment for staff and visitors.
Provide car park management by listing vehicle registrations and locations in the event the car park is busy.
Manage access for deliveries and collections/drop offs and assist with deliveries when required.
To open the building at 8am and lock the building at 6pm Monday – Friday. Office is closed on a weekend.
Operational use of a CCTV system.
Conduct investigations into any breach of security incidents and report findings to your line manager.
Ensure all visitors and staff use the correct entrance to the building in order to keep eligible records.
Conduct fire alarm tests at the request of your line manager and provide evacuation support on test days.
Ensure no unauthorised persons enter the building or car park.
Build professional relationships with all external stakeholders.
Ensure that stairwells, exits and passageways are clear from obstructions.
Assist with the provision of First Aid following appropriate training.
Undertake any other tasks as requested in line with the role.
Key requirements
Enjoy working with people and establishing healthy relationships with colleagues and external stakeholder.
Be able to deal with and stay calm in difficult situations and have strong problem-solving skills.
The ability to work with a variety of personality types while maintaining a positive and helpful demeanour.
At least 1 years proven experience in a similar role.
Be able to complete various admin duties including use of a computer for emails/messages.
This is a full-time permanent role of 47.5 hours per week based at our new head office in West Bromwich. Monday – Friday 8am-6pm. Uniform will be provided. 30 minutes break per day to be taken as and when required. 28 days annual leave inclusive of bank holidays as the office will be closed. Automatic enrolment into the company's pension.
We offer internal training for any relevant development opportunities.
Annual salary of £24,700 (£10p/h).
To apply for this role please forward your CV and covering letter to ltrumpeter@selectlifestyles.co.uk
Shelter, Kings Square Shopping Centre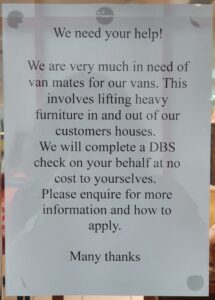 ---
Chikaroo, 3B Astle Park (OPENING SOON)
Restaurant Manager
Restaurant Supervisor
Waiting Staff
Grill Chef
Kitchen Assistants
Please visit business to apply.
_______________________________________________________________________________________________
Piri Land, 15 St Michaels Street
Driver Wanted
To apply call 07454 637030
________________________________________________________________________________________________
West Bromwich Markets
Full Time Markets Assistant
If you are interested please apply by visiting:
________________________________________________________________________________________________
Black Country Women's Aid, Communications Officer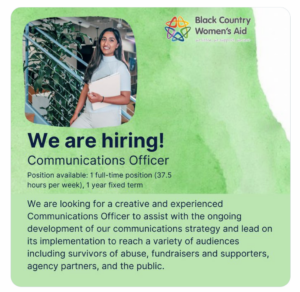 ________________________________________________________________________________________________
Claire's Accessories, New Square Shopping Centre are recruiting the following positions:
Key Holder (must be 18+ years of age), 4 hrs per week
Sales Assistant, 4hrs per week
To apply, please visit www.clairescareers.com
________________________________________________________________________________________________
VARIOUS VACANCIES – Tessuti, New Square Shopping Centre
To apply please email tessuti.recruitment@jdplc.com

________________________________________________________________________________________________
TEAM MEMBER – SCHUH, New Square Shopping Centre
Scan the QR code at the store or visit their website www.careers.schuh.co.uk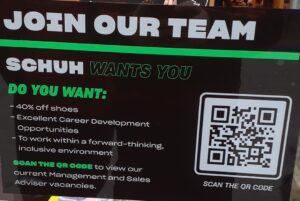 ________________________________________________________________________________________________