COVID-19 Advice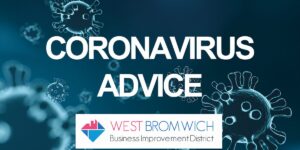 West Bromwich Town BID know that we are in very testing and worrying times with the increase of the Coronavirus (COVID-19).
We want to keep all the businesses within the BID area updated on any developments during this time.
Please visit this page for regular updates as we receive them.
Please click on the link below for the summary of all the support for Businesses.
Support for Businesses during COVID-19
Business Rates Expanded Retail Discount
Further guidance has been released regarding the expanded retail discounts for Business Rates.  Please see the link below:
Expanded Retail Discount Guidance

It's good practice for employers to:
Keep everyone updated on actions being taken to reduce risks of exposure in the workplace.
Ensure employees who are in a vulnerable group are strongly advised to follow social distancing guidance.
Make sure everyone's contact numbers and emergency contact details are up to date.
Make sure managers know how to spot symptoms of coronavirus (COVID-19) and are clear on any relevant processes, for example sickness reporting and sick pay, and procedures in case someone in the workplace is potentially infected and needs to take the appropriate action.
Make sure there are places to wash hands for 20 seconds with soap and water, and encourage everyone to do so regularly
provide hand sanitiser and tissues for staff, and encourage them to use them.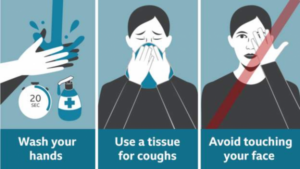 What do Businesses need to know?
Businesses and workplaces should encourage their employees to work at home, wherever possible.
If someone becomes unwell in the workplace with a new, continuous cough or a high temperature, they should be sent home and advised to follow the advice to stay at home.
Employees should be reminded to wash their hands for 20 seconds more frequently and catch coughs and sneezes in tissues
frequently clean and disinfect objects and surfaces that are touched regularly, using your standard cleaning products.
Employees will need your support to adhere to the recommendation to stay at home to reduce the spread of coronavirus (COVID-19) to others.
Those who follow advice to stay at home will be eligible for statutory sick pay (SSP) from the first day of their absence from work
employers should use their discretion concerning the need for medical evidence for certification for employees who are unwell. This will allow GPs to focus on their patients.
Employees from defined vulnerable groups should be strongly advised and supported to stay at home and work from there if possible.
For further guidance on any of the above, please visit COVID-19: Guidance for Employers & Businesses

The most common symptoms of coronavirus (COVID-19) are a new, continuous cough or a high temperature.
For most people, coronavirus (COVID-19) will be a mild infection.
If you have or know anyone that may have Coronavirus, please visit https://111.nhs.uk/covid-19/ for further assistance.  Please do not phone 111 until you have accessed the online service

The Chancellor has set out a package of temporary, timely and targeted measures to support public services, people and businesses through this period of disruption caused by COVID-19.
This includes a package of measures to support businesses including:
a statutory sick pay relief package for SMEs
a 12-month business rates holiday for all retail, hospitality and leisure businesses in England
small business grant funding of £10,000 for all business in receipt of small business rate relief or rural rate relief
grant funding of £25,000 for retail, hospitality and leisure businesses with property with a rateable value between £15,000 and £51,000
the Coronavirus Business Interruption Loan Scheme offering loans of up to £5 million for SMEs through the British Business Bank
a new lending facility from the Bank of England to help support liquidity among larger firms, helping them bridge coronavirus disruption to their cash flows through loans
the HMRC Time To Pay Scheme
For further guidance on any of the above please visit COVID-19: Support for Businesses
The Government have set up a helpline for businesses who may have any questions:
Business Support Helpline (England)
Telephone: 0300 456 3565
Monday to Friday, 9am to 6pm
The Business Support Helpline for England is also on:
Sandwell Council have also launched a website dedicated to Coronavirus and has some useful information that may answer any questions you may have Sandwell MBC – Coronavirus
The Black Country Chamber of Commerce has put together a package of support for local businesses, including a business helpline and online business clinics. Black Country Chamber of Commerce – Business Support Package