Working Safely During COVID-19 – Downloads & Guidance
The BID has put together some guidance and useful downloads that can be used to assist you in achieving COVID-19 compliance.
GUIDANCE
Face Coverings Poster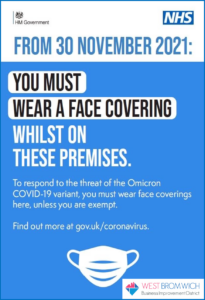 This sign should be displayed on the entrance to your business to encourage people to wear face masks which are now mandatory.
This sign should be displayed at the entrance of the store where hand sanitiser should be available to be used by anyone entering the store.
If you would like any hard copies of these signs or any advice/support regarding COVID-19 compliance, please do not hesitate to contact us on admin@westbromwichtown.co.uk or 07719546973 and we can arrange for a member of the BID team to contact you.