Blind Dave's Challenge against Forkers employees at Pure Gym, West Bromwich 14/2/2014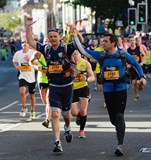 On the 14th February Forkers MD, Peter Watson will be treating Paul Oakes, Andrew Morgan, Rob Shaw and Terence Forker to a romantic Valentine's day surprise; a 100km cycle ride.
This elite team of Forkers employees will challenge 'Blind' Dave Heeley (7 marathons in 7 days on 7 continents) and Sam Greatrex (5th place Primary School beanbag race 1995) in a exercise bike race at Pure gym, West Bromwich, Dave, the old codger on a penny farthing! With Sam, the youngster on a tricycle!
Paul, Andrew, Rob and Terence will cycle as a relay team against Dave and Sam and there's more than Forkers reputation on the line, hopefully, the Express and Star and several radio stations will be covering the event.
This is the first of a series of challenges for Sam as he prepares for the launch of the expedition Lap the World in September when he sets off from his hometown of Halesowen to travel entirely around the world using only a human power.
By cycling 18,000 miles and rowing 14,000 nautical miles Sam will break 9 Guinness World records and he aims to raise £240,000 for Macmillan Cancer Support who provided invaluable help when he was diagnosed with cancer aged 10.
To help Sam reach his goal to build a new chemotherapy suite you can sponsor him www.justgiving.com/laptheworld and to learn more about the expedition or enquire about marketing benefits visit www.laptheworld.com