Exciting Food & Beverage Retailers Come to Queens Square Shopping Centre, West Bromwich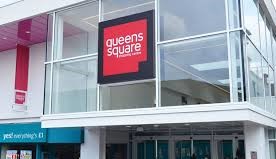 Queens Square Shopping Centre in West Bromwich is set to expand its offering with a number of exciting food and beverage outlets. Expected to open in Autumn 2016, the food quarter forms part of ongoing regeneration plans that began in 2012.
Following extensive refurbishment of the 1970s development, Queens Square has already changed perceptions of the town centre. The introduction of food and beverage retailers forms the next part of the regeneration scheme.
A spokesperson for Queens Square Shopping Centre said: "Despite taking longer than expected, we're really excited to announce our food quarter plans for Queens Square.
"Our shopping centre has already improved the area in a number of ways including: improved pedestrian links and a higher footfall for the area. These additional retailers will simply strengthen an already up-and-coming area."
With a projected Autumn opening, the initial selected range of food and beverage retailers include family-favourite brands such as:
Burger King
El Taco Loco
Roosters Southern Fried Chicken
Real Café Company
Kaspas Desserts
Queens Square has said they're expecting further lettings to be confirmed over the coming weeks.
Joint agents Lambert Smith Hampton and Jackson Criss are managing the extensive leasing drive for the shopping centre. Remaining units range between 500-5,000sq. ft with the option to merge units to create tailored spaces.
For leasing enquiries please contact Lambert Smith Hampton on 0121 236 2066 or Jackson Criss on 020 76377100.
For more information on the retailers and further supporting materials, call: 0121 553 4694 or email: marketing@queenssquaresc.co.uk.
About Queens Square
Queens Square Shopping Centre has undergone a comprehensive multi-million-pound refurbishment that marks a new era for the centre, West Bromwich and its shoppers. Originally opening in 1971, the centre is located in the heart of West Bromwich and comprises over 50 units. The scheme is situated as the main retail link between New Square Shopping Centre and West Bromwich high street making it a key shopping destination for consumers in the town.