Funding Fair Black Country 15th November 2016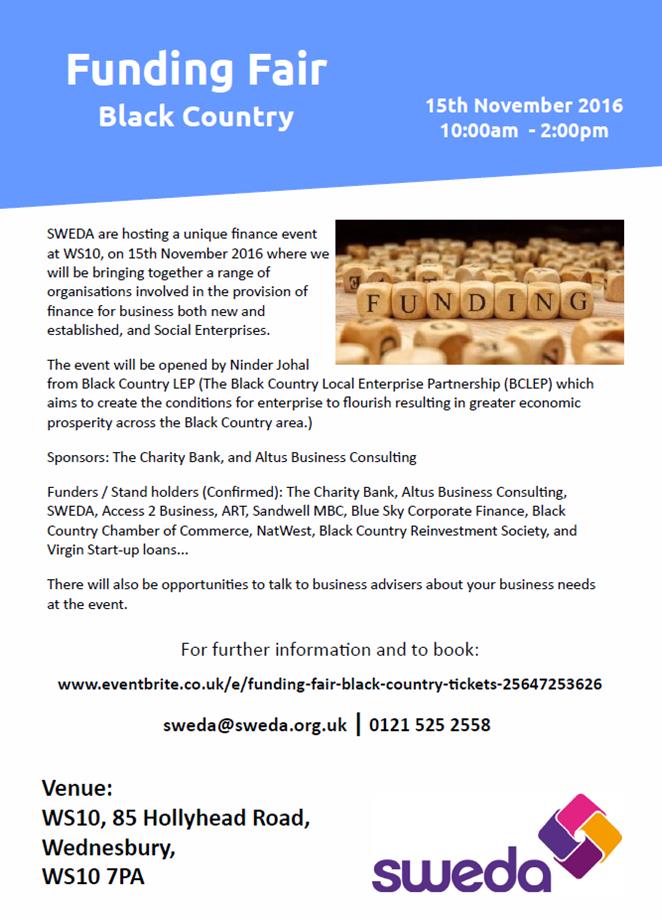 SWEDA are hosting a unique finance event at WS10, on 15th November 2016 where we will be bringing together a range of organisations involved in the provision of finance for business both new and established, and Social Enterprises.
The event will be opened by Ninder Johal from Black Country LEP (The Black Country Local Enterprise Partnership (BCLEP) which aims to create the conditions for enterprise to flourish resulting in greater economic prosperity across the Black Country area.)
Sponsors: The Charity Bank, and Altus Business Consulting
Funders / Stand holders (Confirmed): The Charity Bank, Altus Business Consulting, SWEDA, Access 2 Business, ART, Sandwell MBC, Blue Sky Corporate Finance, Black Country Chamber of Commerce, NatWest, Black Country Reinvestment Society, and Virgin Start-up loans…
There will also be opportunities to talk to business advisers about your business needs at the event.
Date:- 15th November 2016
Time:- 10am to 2pm
Venue: WS10, 85 Hollyhead Road,  Wednesbury,  WS10 7PA
For further information and to book:
www.eventbrite.co.uk/e/funding-fair-black-country-tickets-25647253626
sweda@sweda.org.uk
0121 525 2558