GOALS WORTH TALKING ABOUT – KEVIN PHILLIPS' ICONIC GOAL RECREATED OUTSIDE THE INDOOR MARKET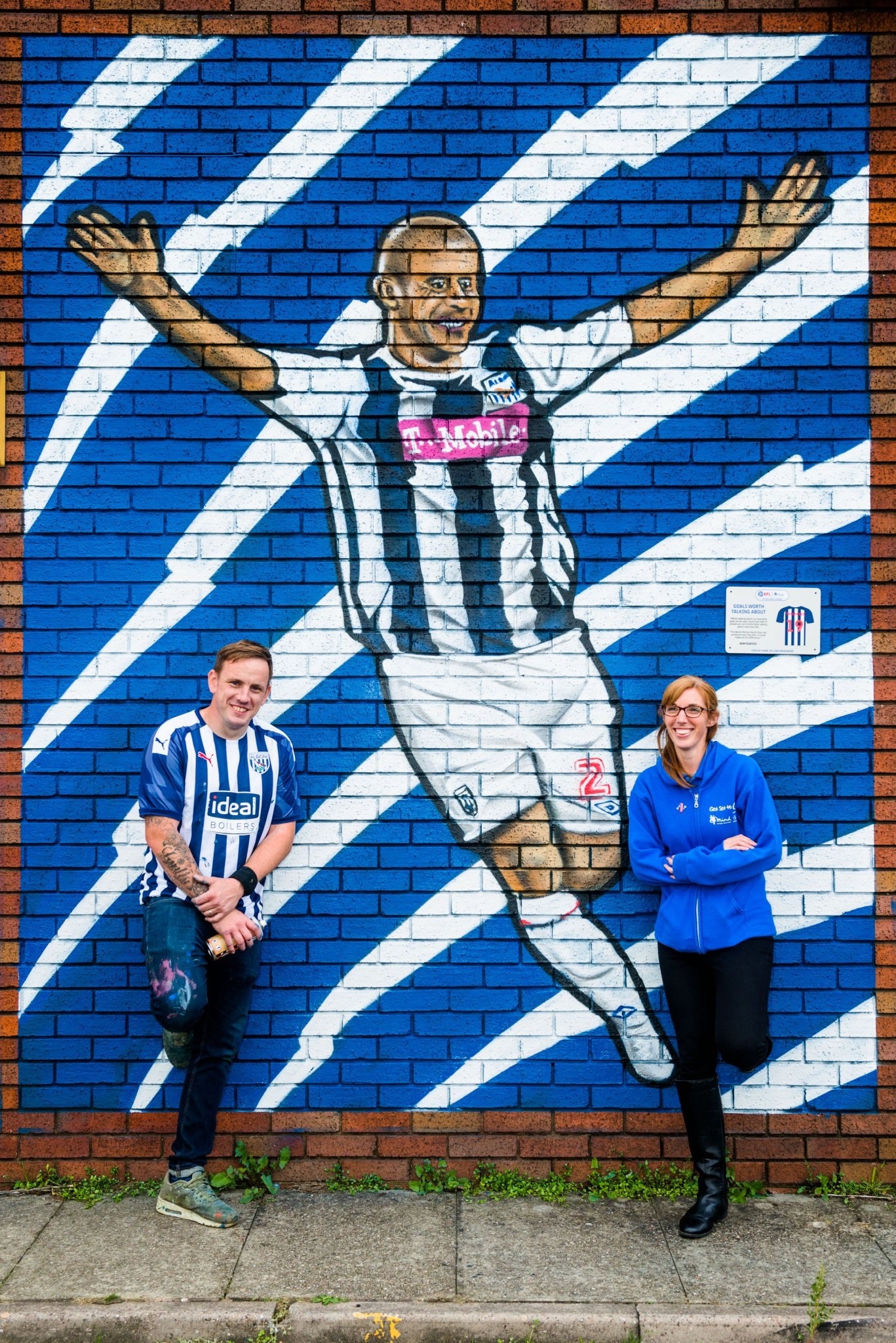 The EFL and Mind encourage people to have the conversations that matter by bringing West Brom's iconic moment to life
The English Football League (EFL) and their charity partner, Mind, have launched an awareness campaign for World Mental Health Day 2019, Goals Worth Talking About.
West Bromwich Albion are one of a number of EFL clubs across the country whose fans have voted for their side's most iconic EFL moment; each of which is being immortalised as street art in their respective cities.
Baggies fans were given three momentous occasions in their club's EFL history to vote on via West Brom's official twitter account, with Kevin Phillips' memorable goal against Wolves at Molineux in the Championship Playoff Semi-Final in May 2007 getting the most fan votes.
On Saturday before and during Albion's home match with Cardiff, street artist Nathan Nice recreated the famous moment on the side of the Indoor Market, with the aim of highlighting how football is often a conversation starter, and the importance of talking when it comes to mental health support. West Brom fans are encouraged to visit the artwork this week ahead of World Mental Health Day on 10th October.
Paul Farmer, Chief Executive of Mind, said, "We know that football and emotion go hand in hand. That's why we're delighted to be marking World Mental Health Day this year with Goals Worth Talking About, as part of our charity partnership with the EFL.
"Football has the power to bring about real change. We hope that by harnessing the passion and emotion fans have about their clubs' most significant goal through these fantastic pieces of street art, we can encourage more people to start up conversations about their emotions and ultimately their mental health too.
"Together, Mind and the EFL hope that Goals Worth Talking About can be the inspiration to people to make their first step to getting support."
Debbie Jevans, EFL Executive Chair, said, "The EFL is proud to be associated with Mind as our charity partner and we are pleased to be able to work together to highlight the challenges around mental health on World Mental Health Day.
"The power of football and the Club badge provides a platform like no other and through the Goals Worth Talking About campaign and the EFL's wider partnership with Mind, we aim to continue to encourage conversations and improve the approach to mental health in both football and in the wider society."
A WBA spokesman added: "There's a few to choose from – but Kevin Phillips' goal will live long in the memory and we know it will always create a conversation. We are delighted to be part of Mind's work with the EFL in raising awareness of the challenges of mental health and show how football can play its part in getting people talking."
To find out more about the campaign, please visit: www.efl.com/onyourside
For advice and support please visit: www.mind.org.uk