Jurassic Adventures comes to Queens Square Shopping Centre, West Bromwich **SOON**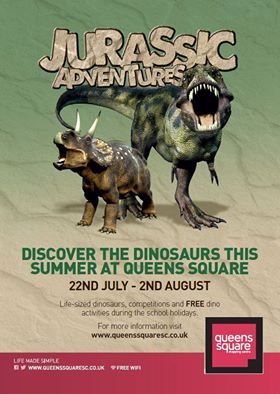 THEY'RE COMING!
Come and see life-size dinosaurs for FREE this summer at Queens Square, including a 15 ft Brachiosaurus!
'Jurassic Adventures' is taking place from Wednesday 22nd July –Sunday 2nd August.
The  Dino trail , takes place every day, where kids pick up their FREE dino maps from Thorntons and receive  a free explorers hat* to  go on the hunt for missing baby  dinosaurs**
An exciting addition to the dinosaur exhibition, are FREE dino-themed activities for all the family on Monday, Wednesdays & Fridays.
Follow the footprints to lead you to the escaped dinosaurs!
Calendar of Events:
Wednesday 22nd July – Lifelike, moving dinosaur shows throughout the day
Friday 24th July – Create your own dino explorer crafts, which you can take home, before setting off around the centre on a hunt for the missing baby dino's!
Monday 27th July – Not all dinosaurs are scary. Come and meet Reggie the walking, talking, cuddly dino and get your picture taken
Wednesday 29th July – Lifelike, moving dinosaur shows throughout the day
Friday 31st July – become a Paleontologist for the day and dig for real fossils in the sand pit area!
There are baby dinosaurs up for grabs if you take the best #selfie with a dinosaur at the centre and for one lucky winner who submits their completed dinosaur hunt form!
We look forward to seeing you there for FREE family entertainment this summer at Queens Square.
*whilst stocks last*