Meet the snow lion this Christmas in New Square Shopping Centre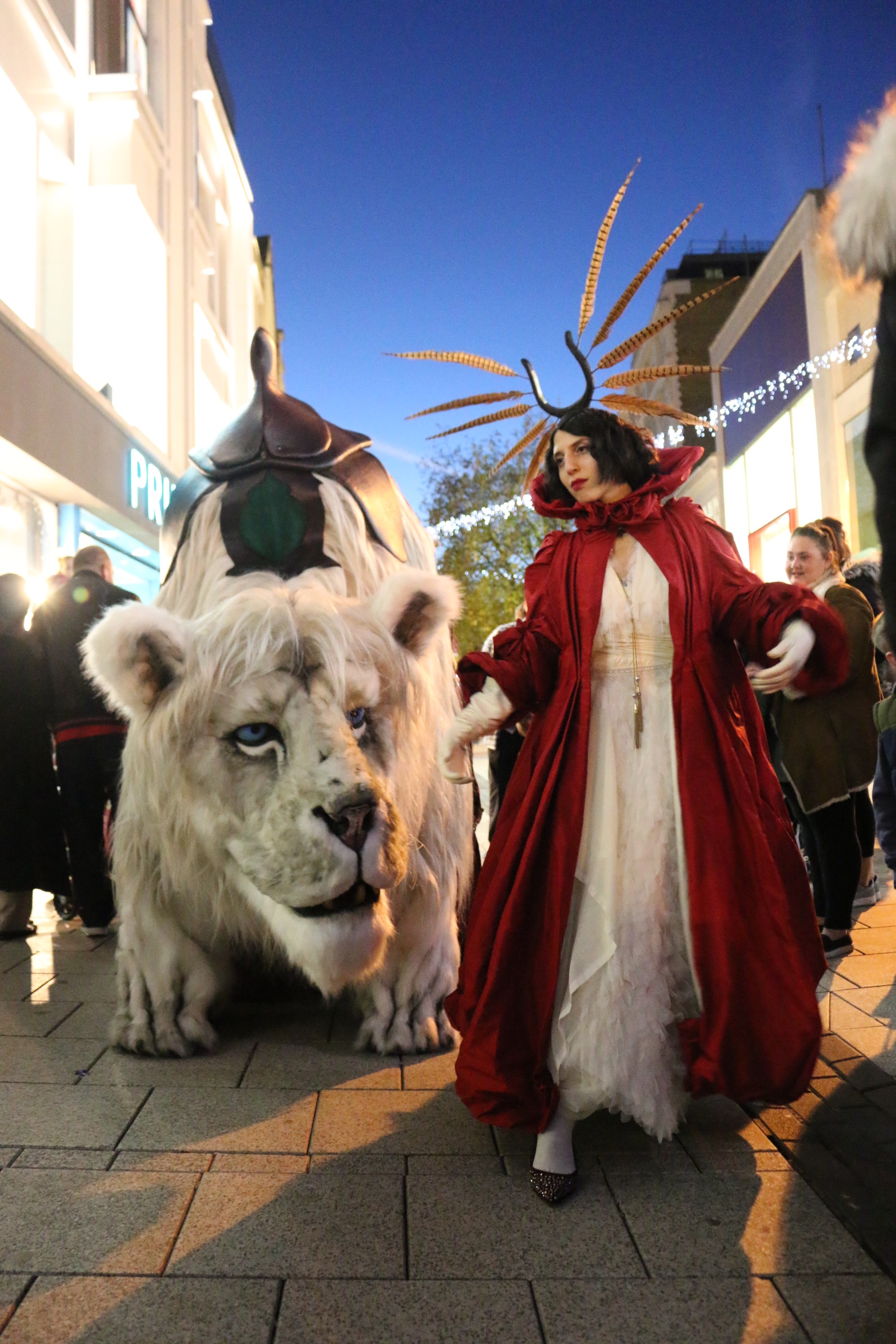 Meet the Snow Lion: Christmas Events at New Square
What: Meet the Snow Lion
When: Saturday 16 December, 11am-4pm
Where: New Square Shopping Centre, Sandwell, West Bromwich, B70 7PP
**FREE EVENT**
Visit newsquarewestbromwich.co.uk/whats-on/ for more information and performance times
New Square Shopping Centre is inviting people to enter a world of winter enchantment this Christmas with an encounter with the magical Snow Lion.
Visiting from the Forests of Eternal Snow and accompanied by the Red Queen, whom he is charged to protect, the giant white lion with walk through New Square, a mythical emblem of the season, celebrating the light of human kindness in the depths of winter's darkest days.
One of the largest animatronic creatures in the UK, measuring 2 metres high and 5 metres long, the Snow Lion combines cutting-edge animatronic puppetry, sound effects and music with a breathtakingly realistic appearance.
Children and adults alike will be enraptured by this incredible creature and will have the opportunity to take a picture with him to capture a magical Christmas moment.
The centre's legendary Santa's Grotto will also be returning on Saturday 25 November at New Square. Children can explore the fabulously festive grotto, as well as meeting Father Christmas to tell him what's on their Christmas lists this year. Entry to the Grotto includes a gift from Santa. Parents and carers are free to take their own photos or there's the opportunity to purchase a professional framed image with Santa. For an original way to capture the moment, there's also Photo Baubles available to decorate the tree. Santa will be at New Square every day until he flies off on his sleigh on Christmas Eve. Every entry fee includes a donation to Sandwell Hospital Children's Ward.
Opening times and prices for Santa's Grotto at New Square
25th Nov – 11am – 6pm
26th Nov – 11am – 5pm
Wk. com 27th Nov – 12–5pm Monday to Friday
Wk. com 4th Dec – 12–5pm Monday to Friday
Wk. com 11th Dec – 12 –5pm Monday to Friday
Wk. com 18th Dec – 12-5pm Monday to Friday
Every Saturday 11am – 6pm
Every Sunday 11am – 5pm
Santa and Gift – £5
Santa, gift and photo £7,50
Extra photos £2
Photo baubles £5