Pile-up closes High Street in West Bromwich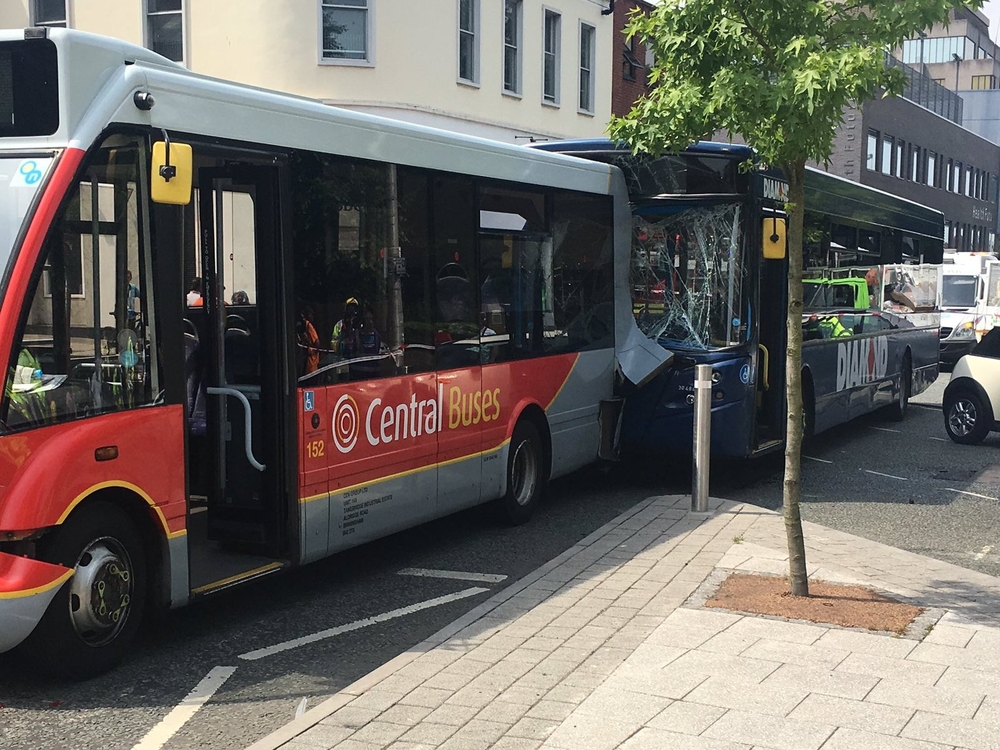 Pile-up closes West Bromwich High Street
A pile-up involving an ambulance, cars and buses in West Bromwich has left the High Street shut and one elderly man injured.
Police, paramedics and fire crews arrived at the scene after calls were made to the emergency services at 12.45pm.
Although 18 people were involved, only the elderly man who was in the ambulance was taken to hospital following the crash, which involved two buses, an ambulance, a taxi and a car, according to fire crews.
He is not believed to have been seriously injured.
Watch Commander Steve Pougher, from West Midlands Fire Service, said: "It was like a domino effect.
"The bus has gone into the rear of a bus which has gone into a car which has gone into the rear of an ambulance and that into a taxi.
"Luckily there are no serious injuries.
"Eighteen people were involved. One person was conveyed to hospital with superficial injuries. He was in the patient transfer ambulance and complaining of back and neck pain.
"He was taken to Edward Street Hospital."
Sonia Robinson, 60, from Dudley, was on the Central bus.
"I just felt a jerk. I was knocked out of my seat and was down on my knees, I hurt my side.
"There was a gentleman on who banged his head but he walked off.
"It was a bit of a shock and it is a bit uncomfortable on my side but I've been checked over by the ambulance staff."
Several National Express buses were being diverted as a result.
A West Midlands Police spokesman said: "We were called to report of a road traffic collision at 12.45pm on West Bromwich High Street.
"Several cars and a bus are involved and there have been no serious injuries confirmed.
"One elderly man is being treated for neck pain and the road is currently closed."