Support Dave Heeley in his challenge for 2015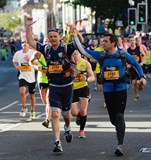 Blind Dave the first and only blind person to have run 7 marathons in 7 days on 7 continents. Then the first and only blind person to have run & cycled from  John 'O' Groats to Lands End 10 marathons in 10 days and 100's of miles of cycling.  Could there be another first?  YES! April 2015 Blind Dave is going to take on the Sahara Desert. Reputed to be the toughest foot race on earth he intends to become the first blind person to take on this 150 mile plus event with the help of his friends Tony Ellis & Rosemary Rhodes. www. blinddaveheeley.co.uk
Known simply as the MdS, the race is a gruelling multi-stage adventure through a formidable landscape in one of the world's most inhospitable climates – the Sahara desert. The rules require you to be self-sufficient, to carry with you on your back everything except water that you need to survive. You are given a place in a tent to sleep at night, but any other equipment and food must be carried.
Imagine yourself in the Sahara desert:- with nothing but rolling sand dunes for miles around. When you plough your feet through the sand, a fine dust kicks up. You can't feel the sweat dripping down your face because it's evaporating in the baking heat. Your lungs feel parched. Today's temperature is over 100 degrees Fahrenheit (50 degrees centigrade). Part of your brain is screaming at you to stop, right now, to drop out of the race, but the other part of your brain is stronger. The other part of your brain knows that when you complete the final stage of the Marathon des Sables, you will have run the equivalent of five and a half marathons in five or six days, a total distance of some 251 km – 156 miles
Jon Ross, The Albion Foundation Business Development Manager, said:"It is fantastic that Dave has chosen to raise funds for the Albion Foundation. "Listening to some of his stories from his past challenges, you can sense a great amount of passion that he possesses for fundraising and helping charities".
Being an ambassador for the Albion Foundation has enabled me to see the fantastic work they do helping disable people to become involved in sport, in particular their blind football. Please visit the Albion Foundation website to really get a sense of all that they achieve.  www.thealbionfoundation.co.uk
Donate online at – www.justgiving.com/blinddavemds
or
By text message to donate £10 Text FYRV65 £10 to 70070